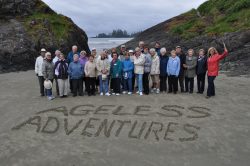 At Ageless Adventure Tours we take pride in the fact that all our tours are accompanied by an experienced, knowledgeable, and personable tour manager.  From beginning to end they are with the group to make the trip a memorable one.
What does a tour manager do?  Many say they would love to become a tour manager because they love to meet new people and travel.  However there is a LOT more involved than that!  Their job begins long before the tour.  They often have travelled to the locations already, but also do a lot of research to learn about the area, its history and culture, and the best places to visit, along with hidden gems only locals may know about.  As they will be providing commentary while in transit they learn a lot of great tidbits about all the points of interest to share with the group.
Your tour manager makes sure your vacation runs smoothly and lives up to your expectations!  Just a few of their many duties include:
Coordinating with transportation, whether it's the taxi that picks you up from your front door or checking the group onto an international flight.
In most locations our groups stay in 4-star or better hotels and the tour manager will make sure the group gets checked in smoothly and everything during the stay meets with our high expectations.
Ageless Adventures includes many meals and guests enjoy fine local cuisine. Your tour manager will work with restaurants to accommodate any dietary restrictions as well as ensure timely, excellent service at all venues.
For occasions that meals are not included your tour manager is always ready to recommend restaurants and will often arrange for guests to dine as a group.
Travelling as a single? Don't worry about feeling alone, our groups have a great friendly attitude and the tour manager will also make sure everyone travelling feels included and safe.
Tour managers are trained in first aid and also are ready to deal with any emergency or unexpected circumstance that may arise. They work closely with our office to manage all aspects of the tour and are prepared to come up with alternative routes or options.
It may sound silly but "counting heads" in one very important task! No guest is ever left behind!
There is always time to relax and enjoy your lovely accommodations and explore the area you are visiting. If you are looking for some extra activities your Tour Manager will be able to make recommendations as well as help arrange optional side tours.
It would be impossible to list all the things a Tour Manager does to make your vacation an amazing one.  But rest assured they are there to make it an adventure to remember!