Melinda Burns:  For the past 28 years I have led our clients on many Ageless Adventures.  It is a pleasure and a highlight to meet with the guests and get to know them.  We have had many fun times and learned a lot about our own backyard and beyond.

Rosalie Miller: I have been a Tour Director for the past 16 years and I LOVE what I do!  I thrive to provide my guests with the utmost professional and personalized service AND have a lot of fun!

I was born in the Netherlands and by age 8 immigrated to Canada with my parents and 6 siblings. Dutch is my 2nd language and I am always working on my French.

I am happily married for the past 45 years and am a proud Oma to 6 beautiful grandchildren.

As a Tour Director, I want to bring the best experience to each and every one of my guests by delivering informative, entertaining storytelling, commentary, and on-coach entertainment with humor and kindness.

Jackie Elie: My passion has always been travel.  I had a rewarding career as a flight attendant with an international airline and the travelled the world for many years. My love of travel has always stayed with me to this day. My travels have taken to me to far away places, but my heart will always be in western Canada, with the most scenic and spectacular places to see and experience.  I enjoy being a tour manager and helping people explore and enjoy new places and experiences. I look forward to meeting you on one of our upcoming tours.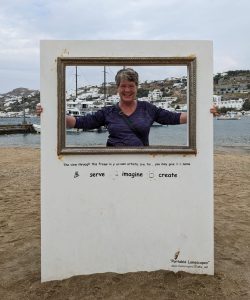 Heather McMann: I got bitten by the travel bug when I returned from Europe after my high school graduation. Working for an airline introduced me to the world of Tourism and more opportunities for travel. After years employed in an office and raising two daughters, I found myself applying for a job as a Tour Director and 17 years later I still love my job!